Story so far
Seasearch Ireland is a citizen science initiative to encourage divers to document details of species seen during marine dives to help build the knowledge base on the distribution of marine species in Ireland's in-shore waters. It has been established since 2009 under the auspices of the Irish Underwater Council (IUC) though marine recording has been promoted and courses run since 2003, under the auspices of Seasearch Northern Ireland. The objective of Seasearch Ireland is to build capacity within the network of divers to collect data on marine biology, as a contribution to better understanding our marine environment and how it is responding to changing environmental conditions. Since 2003 Seasearch Ireland and Seasearch NI have demonstrated that there is capacity within the diving community to generate valuable, high quality citizen science data on marine species distribution in Ireland's marine waters. This initiative has delivered survey information from 1,196 sites around the Irish coast. This comprises a total of 53,231 species observations of 1,183 species. Seasearch Ireland operates an open-data policy and all data has been provided to the National Biodiversity Data Centre and are freely available on the Data Centre's mapping portal, Biodiversity Maps.
Going forward
Going forward the objective is to increase the capacity within the diver community in Ireland to deliver a more ambitious citizen science initiative to improve both the quantitative and qualitative information generated by training more people and by providing more specialist courses to improve the depth of knowledge. This will be done by encouraging existing recorders through the provision of specialist training, by introducing new schemes to encourage recorders to take ownership of their local biodiversity (e.g. the National Marine Monitoring Scheme) and to encourage casual recording of marine species.
Significant records
In recent years divers have contributed a number of records of rare or seldom seen species that have contributed to a better understanding of inshore coastal biodiversity. This records are occasionally in the form of casual records and are a valuable part of the Seasearch Ireland recording programs.
Crayfish record for East coast
In 2017 the Curragh Sub Aqua club, who monitor the Muglins as part of the National Marine Monitoring Scheme, submitted the  first record of a crayfish (Palinurus elephas) on the east coast.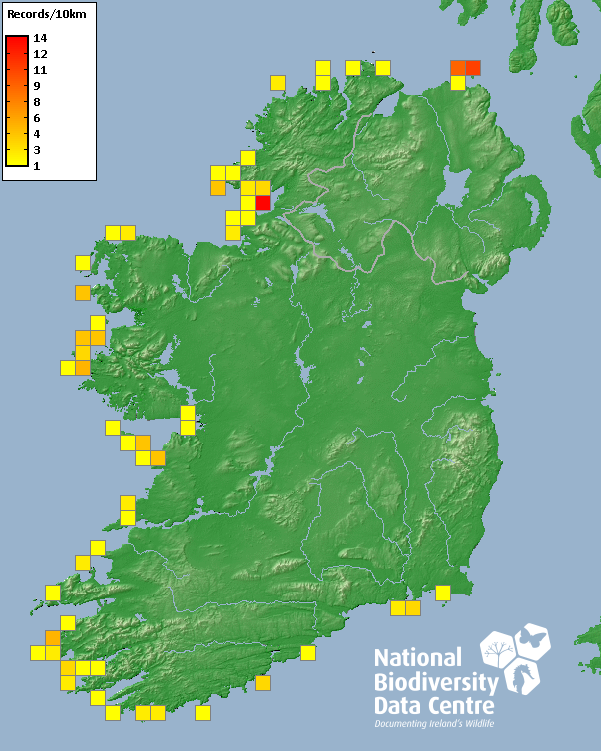 Fireworks Anemones in Bantry Bay
Fireworks anemones (Pachycerianthus multiplicatus) were thought to only occur at two sites in Ireland, Kilkieran Bay, Co Galway and Kenmare Bay, Co Cork. However in 2014 Colm Doyle of Cork Sub Aqua Club recorded this species in Bantry Bay meaning that there are now at least 3 locations where this charismatic species can be seen.
Boarfish at Black Head
Another record of note, Noel Black recorded a boarfish (Capros aper) at Black Head in May 2017. This typically deep water fish has not been recorded in Irish waters since 1979 (though this doesn't include commercial landings and Marine Institute surveys).