What is Seasearch
Seasearch is a project for volunteer divers and snorkelers who have an interest in what they see
under water, want to learn more and want to help protect the marine environment
CFT and Seasearch have teamed up
Seasearch was established in the UK in 1992. In March 2009, CFT teamed up with Seasearch to provide
a marine conservation project for Irish divers. Divers are well placed to be the "eyes and ears" of the effort
to protect the marine environment around our coastline. During Seasearch courses, divers are trained to
complete dive observation forms. The forms are then returned to Seasearch and are used to assist in creating an underwater "map" of areas dived. Observations on dives carried out in the same area at a later date can tell
how conditions may have changed for better or worse.
National Biodiversity Data Centre
All Seasearch records are submitted to the National Biodiversity Data Centre and are available through their online mapping portal. To date a total of 53,231 species observations of 1,183 species have been recorded by Seasearch divers.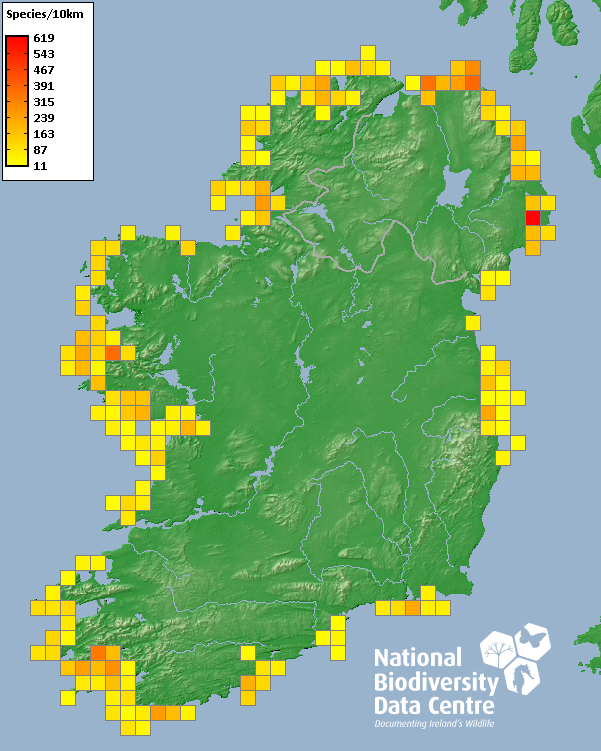 Annual Report 2017
The Seasearch Annual report of their activities for 2017 is avaialble for download by clicking below.
How to get started – Observer Course
The course is run over two days. It starts with a classroom day, which covers topics such as Identification of Marine Life and Habitats and Seasearch Diving Techniques. It also includes a virtual dive and how tocomplete a Seasearch Observer form.
The two dives the following day put into practice everything covered in the classroom and start you on the way to a Seasearch Observer qualification – a total of five observation dives are needed to complete the course.
"The training I got on the Seasearch Observer Course exceeded my expectations and it's amazing how
much more detail and life I now notice on all my dives.  I also love being able to help with conservation efforts."
Next step – Surveyor Course
The surveyor course is aimed at experience Seasearch Ob
servers and anyone with a background in marine life / recording.
The aim is to enable you to complete the Seasearch Survey Form which is used on most expeditionary Seasearch dives and
which gives much more detailed information for future conservation purposes.

Seasearch also offers Workshops on topics such as Marine ID, Fish ID, Specialist at beginner and intermediate levels.
For more details of upcoming courses check out our calendar.
Seasearch 2017
Seasearch calendar 2018
April
21 Marine Algae Identification, Galway
22 Seasearch dive Carraroe
May
Start of National Marine Monitoring Scheme recording season
12/13th Observer course , Dundalk & Dives in Carlingford Lough
June
16 General Marine Identification Course, Galway
17 Seasearch Dive Leitir Caladh
July
14 National Marine Monitoring Scheme Workshop, Donegal
15 Seasearch recording rally North West, Donegal
August
18 Introduction to Common Seaweeds, Carraroe, Co Galway
21 & 23 Seasearch Observer Course, University College Dublin
25 Seasearch Dive Rally Dublin
September
8-15th Seasearch / Porcupine Surveys in Belmullet
October
6th Bioblitz in Carlingford in conjunction with Seasearch NI